Watch Cogitate First Notice
of Loss in action
"In the rapidly changing insurance industry, insurers are turning to digital business models to stay relevant and competitive. Digitalization of insurance is no longer a differentiator but has become table stakes to fulfil new customer demands. Insurers are looking for modern technologies to build out their digital ecosystem and transform the customer experience - for both channel partners and customers. Critically, these kinds of systems must integrate seamlessly with existing core insurance systems and have pre-integrations with third party data sources and insurance services. Many insurers are looking for a microservices-based architecture to drive flexibility and speed of implementation."
Karlyn Carnahan
Head - North America Property Casualty
Celent
"Cogitate Demand Management solution has so many features and benefits. We have significantly enhanced control over attorney demand claims exposure with this software. Demand Management solution helps us to ensure that no demand or a subsequent deadline is missed which can lead to bad faith. This is truly 'sleep insurance' for me when it comes to attorney demand letters. It's an incredibly valuable tool for me as the Claims Vice President."
Christine Ainsworth
Vice President of Claims
Southern General Insurance Company
"Cogitate Digital Insurance solution has enabled us to extend our channel reach. This powerful platform has helped us become more competitive by improving our speed to market & customer experience. Additionally, we have experienced a significant decrease in our cost structure. I highly recommend Cogitate as we've experienced their expertise in insurance and technology."
Diane Boyer
Director of Insurance Operations
Insurance House
"Our agency is constantly looking for ways to stay ahead of the curve when it comes to technology. Thanks to Cogitate, our agency is now in the palm of our customer's hand 24/7. The many features included in our app has made it a favorite among our customers and has helped us to continue to offer comprehensive support to our customers regardless of what time of the day it is or how near or far they are from one of our agencies. The Cogitate app brings our agency to them."
Jeff Butler
President
Able Auto & Cycle Insurance
"Cogitate Digital Insurance has helped us to digitalize our personal property lines business and build an omni-channel ecosystem for our channel partners to connect with us seamlessly. We currently are writing policies for Homeowners and Mobile Home insurance through this platform. It is integrated with our existing systems including AIM and ImageRight. This allows our agents and underwriters to easily access the required information whenever they need. It is full of brilliant features such as 'Quote in a Minute', Customer E-signature verification, Post-sale Services workflow and built-in Property Analytics tools. Personal Property insurance platform has quickly become one of the pillars of our digital business initiatives."
Elena Leming
VP of Personal Lines
Insurance House
Automated Claim Assignment Process
Insurance companies need a considerably long time to manually identify and assign an adjuster to a claim request. Digitally assigning an adjuster to a claim request helps to significantly reduce both the initial response time and the processing time, to resolve claim requests faster. Cogitate Claims FNOL solution addresses this issue and is equipped with a built-in round-robin mechanism with rules to quickly identify and assign adjusters to reported claims. It automates and streamlines work by ensuring that incoming claims are evenly distributed among adjusters for faster resolution times and a better customer experience.

Claim Listing and Filing
Lists all claims at different phases of the FNOL process
Integrated with the insurer's policy administration system for retrieving policy-related information
Supports multiple claim reports for the same claim
Integrated with third-party providers to retrieve vehicle information based on VIN

Adjuster Assignment
Automated claim assignment to adjusters based on information stored in client's claims management system
Capable of manually assigning an adjuster to override an automated assignment
Adjusters can be internal or external and even located at multiple locations

Integrated Mobile App
Easy-to-use mobile application allows the capture and submission of various claims-related documents, including photos, police reports, and more
Can be integrated with third-party service providers for automated claims settlement of smaller claims, e.g., glass repair shops can assess and settle 'glass only' claims without adjuster involvement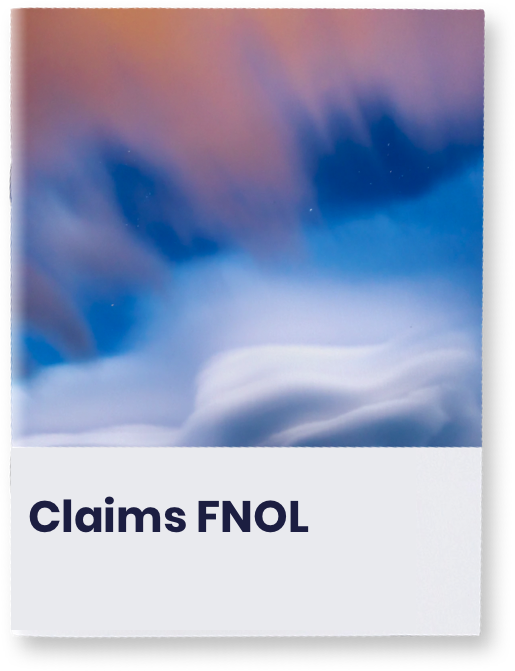 Interested in learning more about our First Notice of Loss?